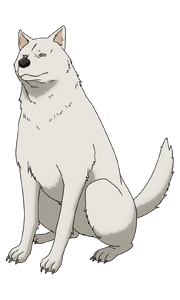 Dog (犬, Inu)
Appearance
[
]
Dog is a white fur dog with yellow eyes.
Personality
[
]
Dog personality is ....
Plot
[
]
Dog accompanies Mikoto Kibitsu when he visits Aldarake Kingdom. After Mikoto defeats the Oni there, they continue their journey. Later near Rimdarl Kingdom, after Mikoto defeats Eye-Oni, Dog realizes that Mikoto left her alive, because she reminded him of himself. He then smells Saltherine Aldarake in the Kingdom, but Mikoto decides they to leave, while surprised that she is there and is the same as him.
Power & Abilities
[
]
Not much is known about Dog's abilities but one glaring fact is Dog is able to verbally talk.
Relationships
[
]
Peach Boy He serves more of like an old and mature traveling companion to Peach Boy than a pet.
Trivia
[
]
Gallery
[
]